Update as of Friday, 22 November 2019:
I have rebranded my name, domain name and business and will now be redirecting all pages from AshleyKay.com to my new business domain EvolvedWomanSociety.com. You can read more about my new business at EvolvedWomanSociety.com.. you can also reach us at our new contact email at support@evolvedwomansociety.com
Don't worry the CORE of my services will not change. I'm still just as passionate as ever to help women attract and keep amazing high quality men. I just wanted to streamline my business and make it more authentic and aligned with where I am in my life right now.
So don't forget to check out my new dating and relationship website where all my old and new articles and content will live!
<3
Katie
Update as of 23rd of May, 2019: Ashley Kay will now be known as Katie Wang. Click here for the whole story 🙂
Hey ladies! I'm Ashley and I'm passionate about helping smart modern women gain greater success in dating and relationships with men. I believe you can have THE best and most rewarding relationship of your life and I want to help you get it.
Ultimately my mission is to educate women about themselves, about love, about men and the MOST important thing – how to find true happiness and fulfillment in their life.
If you're single, feel lonely and frustrated with dating, want more out of the relationship you currently have, I want you to know I've been there too.
Look there's nothing wrong with being single or even having casual relationships, but if we're honest with ourselves, we want more.
Does this sound about right?
You don't just want any mediocre relationship. You want an intimate and meaningful connection with a man who is your best friend, your lover, the father of your children and your partner in crime.
You want a man who can be your ROCK.
You know… a guy who has your back; a guy who adores and cherishes you. A guy you can laugh with and be silly with, talk to for 8+ hours a day, have amazing sex with, a guy who loves you even in your sweat pants and unwashed hair and makeup-less face!
A guy who wants to protect you, make you happy and stand by you until the day you die!
Believe it or not, that guy is out there somewhere FOR YOU. Yes he definitely exists. He may not know it yet but he's looking for you too!
Why am I so positive about this? I don't even know you.
Is it because I've never experienced heartbreak or the earth shattering disappointment and betrayal a guy could make us feel? Nope.
Is it because I'm perfect and guys just naturally want to do anything for me? Nope again.
I've had my string of bad runs with men.
From guys who cheated on me, to guys who led me on, to guys who lied and made me feel bitter about love & relationships until I firmly believed I may remain single for the rest of my life.
In fact, I was single for nearly 3 years because although I wanted a relationship, I didn't want the kind of pain and drama another man could cause me.
I know it's possible for you because it was possible for me and I've stood where you are.
I've been rejected. I've been hurt. I've felt scared to commit. I've felt scared to speak up about my feelings. I've scared good men away and regretted it. And I've held onto bad men for way longer than I should have.
For most women, we're often dominated by our emotions. And in dating, emotions can run amuck and do crazy things to us. I was that crazy woman who would have insane fights with past boyfriends because I couldn't control my emotions.
I was also that crazy woman who would get super attached to a guy after ONE date and spend months trying to make him like me while ignoring every sign that he was completely wrong for me.
Our emotions can ruin us if we let it but I want you to know there IS hope.
After a whole lot of work on myself; discovering who I am, what kind of man I wanted, what kind of relationship I wanted, doing my homework on men, dating and relationships, I met the perfect man for me. Our relationship developed like a dream come true, but I know it wasn't "just luck".
I believe things happen for a reason, and all that hard work paid off.
We're now married and I couldn't be happier.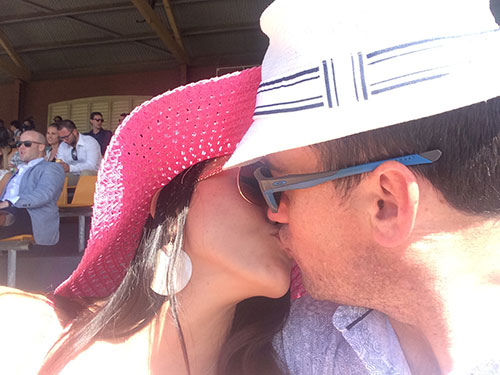 (Pic of me and my man being stupidly in love.)
If you want the kind of relationship and love I'm talking about, even if you're not quite "ready" yet but you know in your heart that IS what you want, you've come to the right place.
Here you'll find:
How to understand men: understanding men helps us develop a key characteristic… EMPATHY. Without empathy you can't build the kind of relationship I'm talking about.
How to understand YOURSELF: understanding your own emotions, your behaviours and how men perceive them, as well as your emotional intelligence is a clue to mastering relationships. You can't truly master your relationship without mastering yourself.
How to practice loving yourself & loving a man. Love is a verb.. it's in the act of doing can we truly love. Most people talk about the act of getting and giving love in a relationship. But this is a misconception. When you're in a relationship with a man, you're actually in a relationship with two people. Yourself and your man. If these two things become unbalanced, that's when your relationship will start to eat in on itself.
Fulfillment and happiness – we often attach our happiness to an external factor – we assume that if we only had more money, a better partner, a bigger house or more well-behaved kids… we'll be happy. Is that really true? True fulfillment comes from consistent and conscious practice of gratitude and having purpose for your life. I explore how to tap into this and align your actions to make way for more prosperity, joy and fulfillment in your life.
How to DATE. It's my firm belief that dating does not come naturally to most people. It's often awkward, contains a lot of guesswork and when you DO find a man you really like, it can still be anxiety ridden (what if you scare him off). Dating is only fun the first few times and that's only if you find a great man and end up marrying him in the end. What about the other dozens or even hundreds of dates that were a complete waste of time or a series of heartbreaks and disappointments instead? Not my cup of tea either. But there IS a way to make dating slightly more enjoyable. It requires a simple shift in your perspective. I believe dating should be used to improve your social skills and become more attractive as a person. I'll show you how.
How to deepen and grow the love and relationship you have. If you're currently dating a man or in a more committed relationship with a man, the biggest mistake we can make is to get complacent and assume they will always be there. Boredom is one of the major killers of relationships. It's scary the way it unsuspectingly creeps into lives and chokes us in our sleep. Practice proactively to love and gain new experiences with your partner to keep the flames burning hot!
And this leads me to something that will really help you right now.
If you would like to escalate your knowledge of men, being more attractive, confident and successful with men and relationships, I highly encourage you to sign up to my VIP email list.
You'll receive my best tools, reports, cheatsheets and advice on men, dating and relationships.
Thank you for being here, I appreciate you checking out this page.
Talk soon!
Ashley